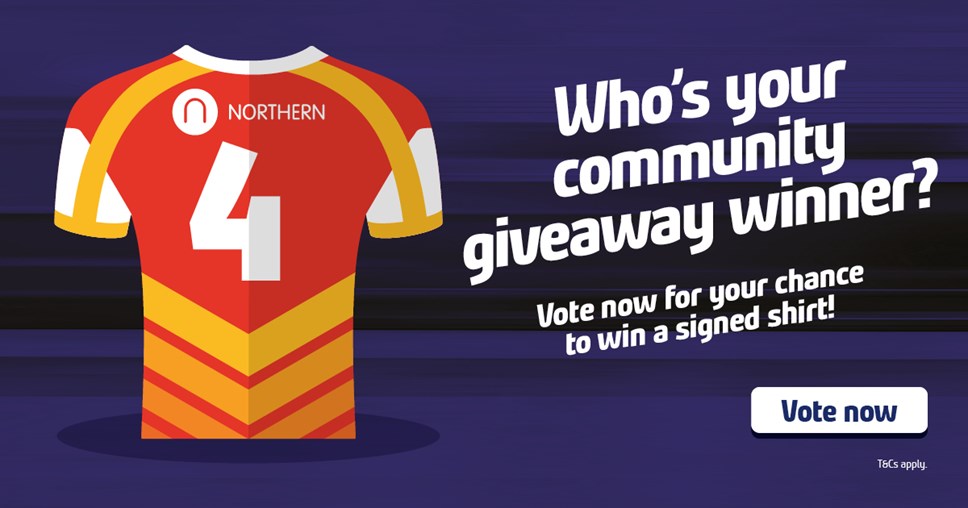 Your chance to vote for grass roots rugby heroes
Grass roots rugby league heroes are looking for public support to help them secure funding for their club.
Northern is offering a £1,000 grant, as well as training and matchday equipment, for one lucky rugby league club as part of a special spring competition.
The competition, part of the train operator's partnership with Betfred Super League, invited clubs to enter by explaining what the grant would be used for and how it would help in their local community.
And entries have flooded in, with more than 2,500 initial bids now whittled down to just five randomly selected finalists.
Mark Powles, Commercial and Customer Director at Northern, said: "We are proud to be associated with the great sport of rugby league and even more proud of the role we play in supporting communities in the north of England.
"Grassroots sport plays a pivotal role in many of our communities and many clubs have suffered because of the coronavirus pandemic.
"I'm pleased that, through our sponsorship of the Betfred Super League, we're able to play our part in helping those community clubs make a real difference for local people."
It's now up to the public to decide who walks away with the prizes, and voting is open until Sunday 13 June at 11.59pm.
The clubs still in with a chance of claiming the equipment and £1,000 grant are:
Greetland Allrounders (Halifax)
Myton Warriors (Hull)
Sheffield Forgers
Westhoughton Lions
York Acorn Under 11s
To find out more about the finalists, and to vote for your favourite, visit www.northernrailway.co.uk/vote
Notes to editors
The winning club – chosen by the public – will claim the following prizes:
Facility improvement vouchers (£1,000 total value)
Full match kit – a branded full kit for a team of 20
10 x tackle shields
50 x rugby balls, complete with bag and ball pump
100 x cones
Full terms and conditions, together with details of each finalists, are available via the voting page on Northern's website - www.northernrailway.co.uk/vote