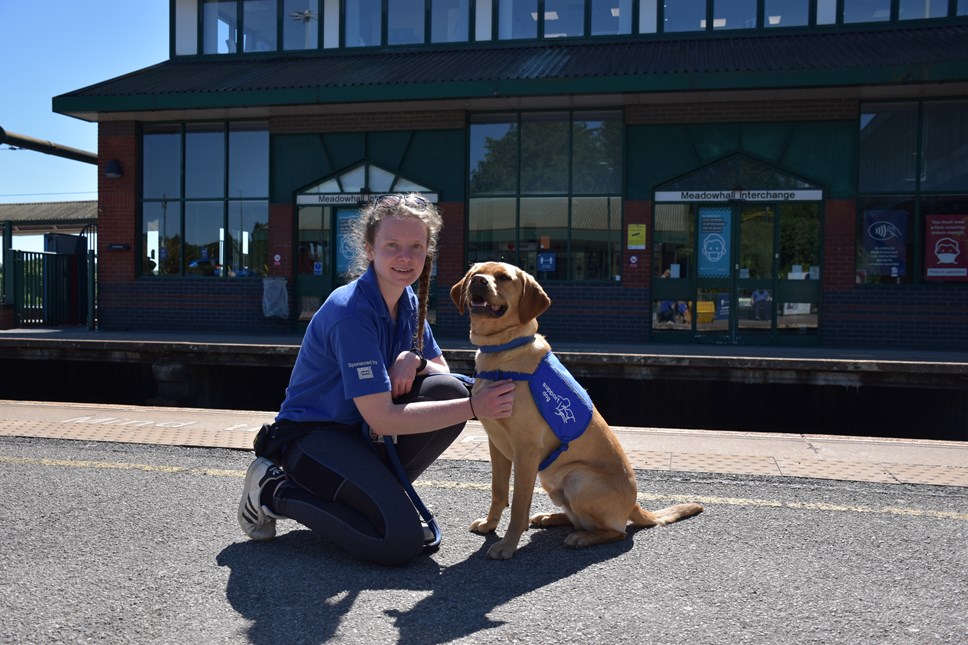 Support Dogs on track to success – thanks to help from Northern
Lawson the fox-red Labrador is well on track in his training to become a life-changing assistance dog – thanks partly to a little help from train operator Northern.
Northern has generously offered free travel on its South Yorkshire network for all staff and volunteers at Sheffield-based charity Support Dogs for training purposes, to help their dogs get used to train travel.
Rita Howson, Chief Executive, at Support Dogs said: "From a very early age our dogs need to acclimatise to all kinds of environments including public transport.
"When they qualify as professional service dogs, they will have to be confident and unfazed by the outside world, and in keeping their owners safe and secure.
"Our volunteer puppy socialisers regularly take our young pups out and about on buses, trams and trains, and our trainers do the same with the older trainee dogs, so we're really very grateful to Northern to allow them to travel free on its local rail network for training purposes."
Support Dogs is a national charity that provides and trains assistance dogs for children with autism and adults with epilepsy and physical disability, enabling them to lead safer, more independent lives.
Tony Baxter, Regional Director at Northern, said: "At Northern, the communities we serve are always at the heart of everything we do, and we are delighted to be able champion Support Dogs in this way, as well as highlight the fantastic work of the charity."
"We want to make our trains – and our wider network – as accessible as possible, and this is just one of the ways we are continuing to deliver a Northern that works for everyone and makes a positive difference."
"In the past 12 months alone, Northern has also introduced an industry leading mobility scooter policy, carried out dozens of station improvements, partnered with Specialist Awareness Services to transform three flagship stations into autism friendly hubs and set up a £250,000 accessibility fund dedicated to empowering older and disabled people to make decisions which will improve the railway."
Contact Information
Lauren Clarke
Media Relations Executive
Northern
Notes to editors
Lawson is pictured with Support Dogs' trainer Becky Cochrane at Meadowhall Interchange.