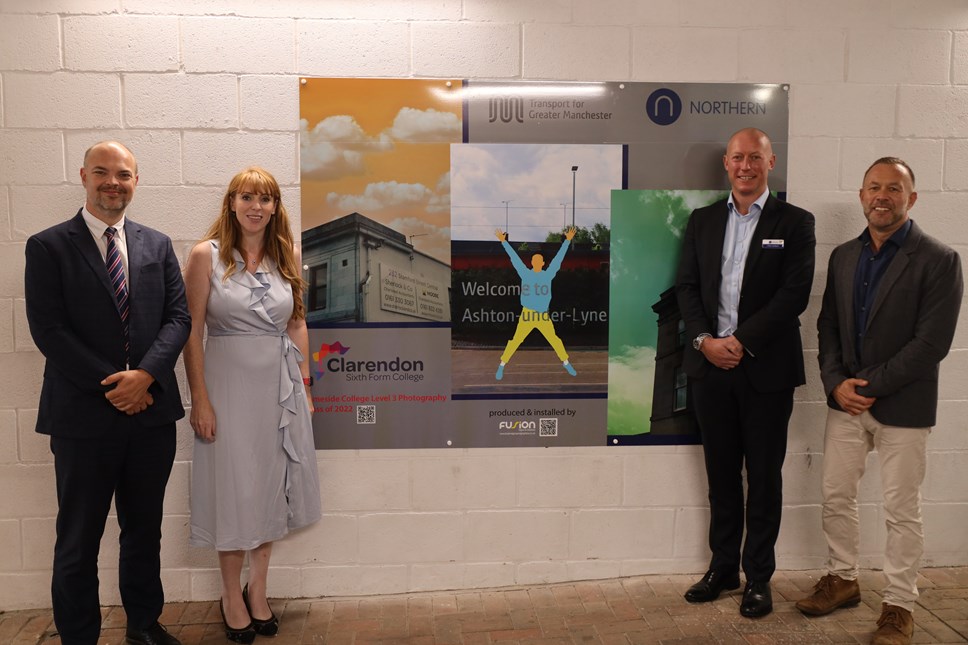 Student artwork takes centre stage at refurbished Ashton-under-Lyne station
A photography project by students at Clarendon Sixth Form College has been unveiled at Ashton-under-Lyne station by local MP, Angela Rayner, as part of a makeover by train operator, Northern.
The work, which features iconic locations throughout the town and scenes of nature in the surrounding countryside, takes centre stage on the passenger route up to the platform.
Other improvements to the station include: new signage, additional platform seating and better access to the disabled toilet facilities as well as a secure storage rack for bicycles.
Improved LED lighting creates a brighter environment for customers, while tactile paving at the top and bottom of the subway ramp up to the island platform is an added safety feature.
Chris Jackson, regional director for Northern, said: "The improvements to Ashton-under-Lyne station are part of an on-going programme of work to enhance facilities for customers across our network.
"Alongside the new infrastructure put in place, the artwork by students from the local college – whose campus overlooks the station – has really made a difference. I'd like to thank them on behalf of our customers who will get to enjoy it each time they use the station."
Angela Rayner, MP for Ashton-under-Lyne, said: "It's great to see improvements being made that will make such a big difference to commuters at Ashton Train Station. The fresh paint has really brightened up the walkway and made the station approach feel much lighter and safer and the new seating areas will make waiting for a train a much more comfortable experience for passengers.

"The photographs from students at Clarendon Sixth Form College are absolutely fantastic and I could not be more proud of their efforts. It's great that they have chosen iconic local landmarks like Hartshead Pike and the war memorial for such an important project."
Jackie Moores, principal and CEO at Clarendon Sixth Form College, said: "I am very proud that our students have taken part in such a high profile project within the local community. The work they have completed looks fantastic and it has really made a difference to the train station, which many of our students use themselves on a daily basis. Well done to them for taking part and I hope that they can be involved in more projects like this in the future."
Simon Elliott, head of rail programmes at TfGM, said: "Ensuring rail stations are accessible, inclusive, and appealing to use is incredibly important for encouraging people to use public transport over cars, and for achieving Greater Manchester's ambitious Bee Network vision of a London-style integrated public transport system.
"Projects such as the wonderful artwork created by Clarendon Sixth Form College here, allow the community to be actively involved in bringing that vision to life, and we are pleased to have been able to provide funding for this.
"The improvements made, primarily tackling accessibility issues, will allow more people to use the station and are just a part of a wider schedule of works to improve rail stations across the borough."
Northern is the second largest train operator in the country, with nearly 2,000 services a day to more than 500 stations across the North of England.
Contact Information
Northern Trains Press Office