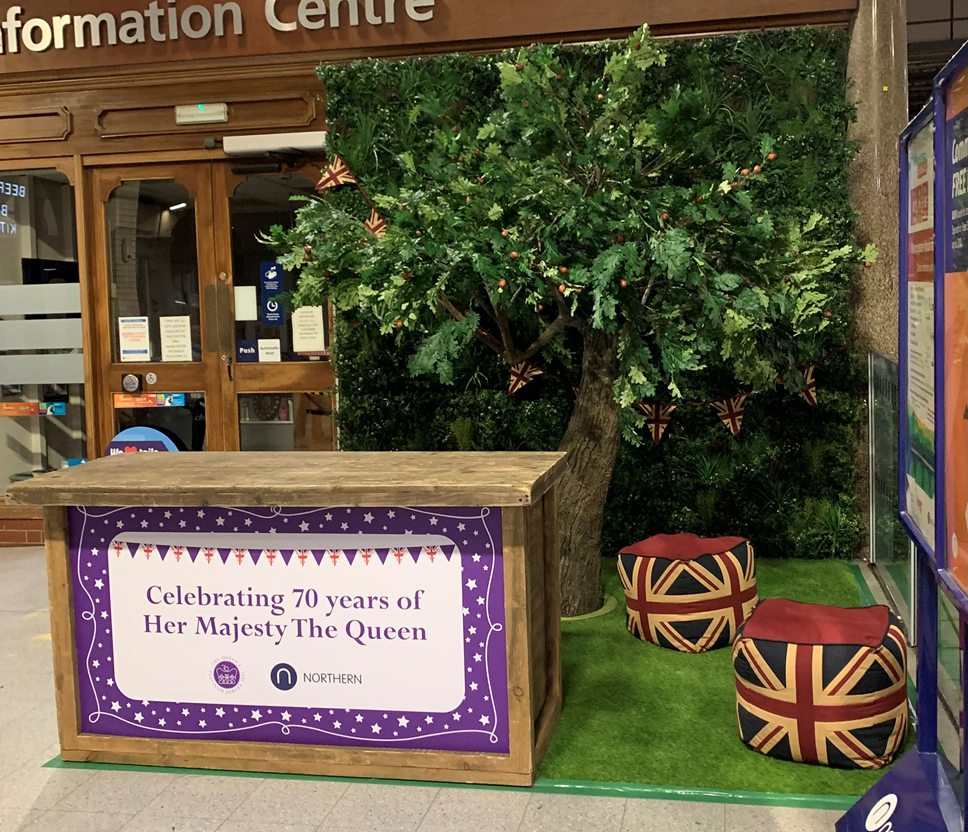 Northern encourages thanks as part of Queen's Platinum Jubilee celebrations
Northern, the biggest train operator in the North of England is celebrating Her Majesty The Queen's Platinum Jubilee by supporting the national themes of 'thanks' and 'contribution' with various activities taking place across its network.
Northern will be joining with the whole nation in celebrating Her Majesty's reign with activities and events for customers, colleagues and the local community.
'Thank you' trees have been installed at Manchester Victoria and Shipley stations (between Monday 30th and Sunday 5th June) and customers, colleagues and local communities are encouraged to leave messages of thanks and hope on the branches.
Northern will be virtually dressing all its station (where digital facilities exist) with official jubilee branding and trains will also carry the royal emblem throughout the jubilee week and over the long bank holiday weekend.
Stations at Barrow-in-Furness, Harrogate, Hartlepool, Leeds, Liverpool, Meadowhall, Manchester Victoria and Windermere will all be selling specially commission brochures that highlight, Northern's and the rail industry's contribution to our communities over the last 70 years.
The limited-edition brochures will be available for £5.00 and it is hoped that more than £175,000.00 can be raised across the country for The Railway Children, Save the Children, Railway Mission, The Railway Benefit Fund and Women in Rail.
Northern will also be working with a number of schools in Bradford, Leeds, Manchester and Newcastle to reward pupils who have shown kindness and community spirit.
Depot tours, station visits and STEM education sessions will be provided at Heaton, Holbeck and Newton Heath train maintenance depots and at Leeds station where pupils will also be treated to a royal jubilee picnic on board specially decorated trains.
Station adopters and Community Rail Partnerships have also been hard at work with events, garden displays and station decorating taking place across the network.
Northern colleagues have also been looking back and contributing their royal memories to internal magazines and have put together a special video message to Her Majesty which will be released via Northern's social media channels.
Nick Donovan, Northern's managing director, commented: "It is going to be a fantastic week of national celebration in recognition of Her Majesty the Queen.
"We wanted to be part of those celebrations and have focused our efforts on acknowledging our communities, colleagues and customers for their contribution and that of the railway in the north over the last 70 years.
"We are hoping to raise money for some very worth charities, reward kindness and community spirit, support our local partners and give everyone the opportunity to say thank you.
"On behalf of everyone at Northern I want to thank Her Majesty for her continued service to our country."
Contact Information
Northern Trains Press Office