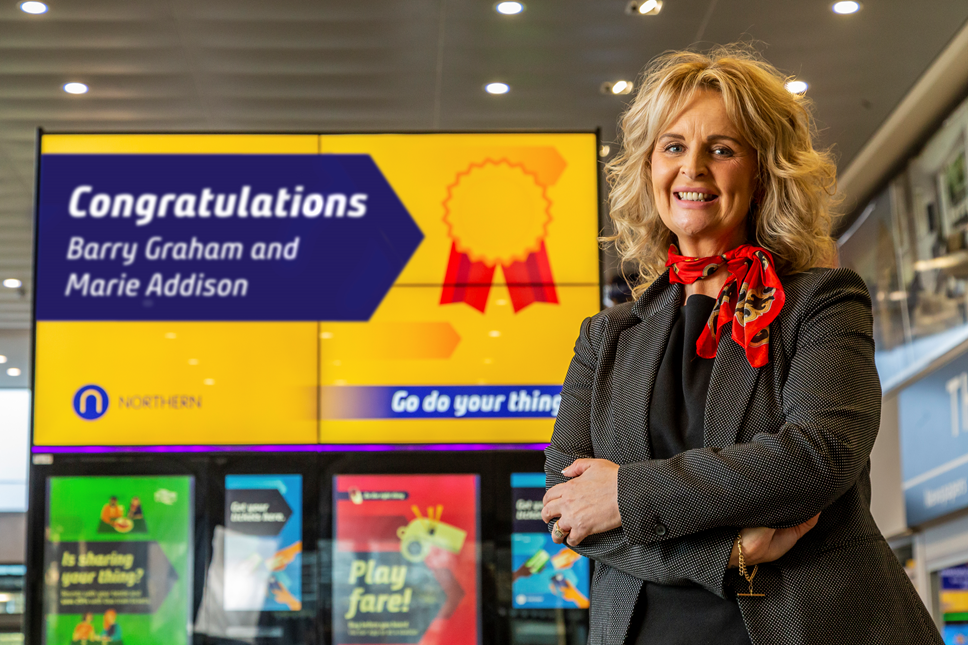 National honours for two of Northern's best
Two stalwarts of the northern railway are celebrating after being recognised in the recent New Year's Honours list.
Barry Graham and Marie Addison, who both work for Northern have been awarded MBE's by the Queen for their services to the rail industry and the local community.
Barry, who is a senior advisor to Northern started his railway career in 1965 and has been instrumental in the development of rail services across the north of England.
After starting out as a trainee with British Rail 56 years ago, Barry is receiving an MBE in recognition of his services to the rail industry.
Barry said: "I feel very humbled and gratified to have received this award. It has been a privilege to have worked for so long in an industry that is critical to the lives of so many people and communities. It has also been a privilege to have worked alongside countless dedicated industry colleagues whose professionalism and commitment often goes unrecognised."
Barry joined Northern in 2006 as interim Commercial Director and then held the position of Business Development Director from 2007 to 2014, at which point he took up the role of Senior Rail Advisor.
During his time with Northern he has been involved in a wide range of strategic projects, including the transformation of Allerton Depot in Liverpool into a modern rail maintenance facility, which now employs 160 people.
In his current role, Barry is continuing to support economic growth in the north, with his work involving the development of the Alternative Fuels programme and leading Northern's input into the reopening of the Northumberland Line.
Marie, who is Regional Community and Sustainability Manager in the Northeast region, also picked up an MBE for her work in supporting and enhancing local communities close to the railway.
Working in rail since 1991, Marie has developed an impressive community network and all Northern's managed stations 64 in the Northeast are now adopted by volunteer groups and community rail partnerships.
Her work with local communities has seen her support cultural growth in the region with station art projects, special musical themed routes and numerous station gardens and floral displays.
Working with education has also been prominent, and Marie has been able to muster rail facilities and resources to support local schools and provide guidance on rail safety as well adult social care projects including the Forget Me Not train, a special rail service through the EsK Valley in support of those living with dementia and their families.
Marie has led biodiversity projects to support the introduction of herb boxes, vegetable gardens, bat boxes and bug hotels, also dedicated bike trails and nature walks across the network and she has arranged better recycling, LED lighting, bin sensors, motion sensors for super green stations in the region.
Her work through the pandemic has also stood out and she has been a constant support for her community and volunteer groups as well as her colleagues across the Northeast. She has made welfare calls and visits to colleagues who were shielding and helped community groups keep working by organising and providing mentoring for virtual engagement and meetings.
Marie, like Barry is supporting the reintroduction of the Northumberland Line.
Marie Addison MBE, commented on her honour: "I am totally overwhelmed to receive an honour such as this. The past week has been a real whirlwind with a mixture of emotions. I'm truly blown away by all the messages received from colleagues, friends and family.
"I absolutely love my job; it is a pleasure to come to work and support communities across the Northeast. Working with our community rail partners and volunteer groups is such an absolute pleasure, I keep saying this, but I really do have the best job in the business!
"Everyone I work with is so passionate and together we have delivered some amazing projects that I know are making a difference.
"It is such an honour to be recognised in this way and I'm thrilled to bits."
Both Barry and Marie received an MBE which is a Member of the British Empire title and will be invested in a ceremony in later in the year.
Speaking of the honours, Northern Managing Director, Nick Donovan was full of praise and said: "This is amazing news and everyone at Northern is so very proud of Barry and Marie.
"They are both the epitome of what rail ambassadors should be and together they have made rail in the north bigger, better and focused on the communities we serve.
"In their careers they have made a difference and have both achieved many positive outcomes. Thank you and well done to Barry and Marie."
Contact Information
Lauren Clarke
Media Relations Executive
Northern