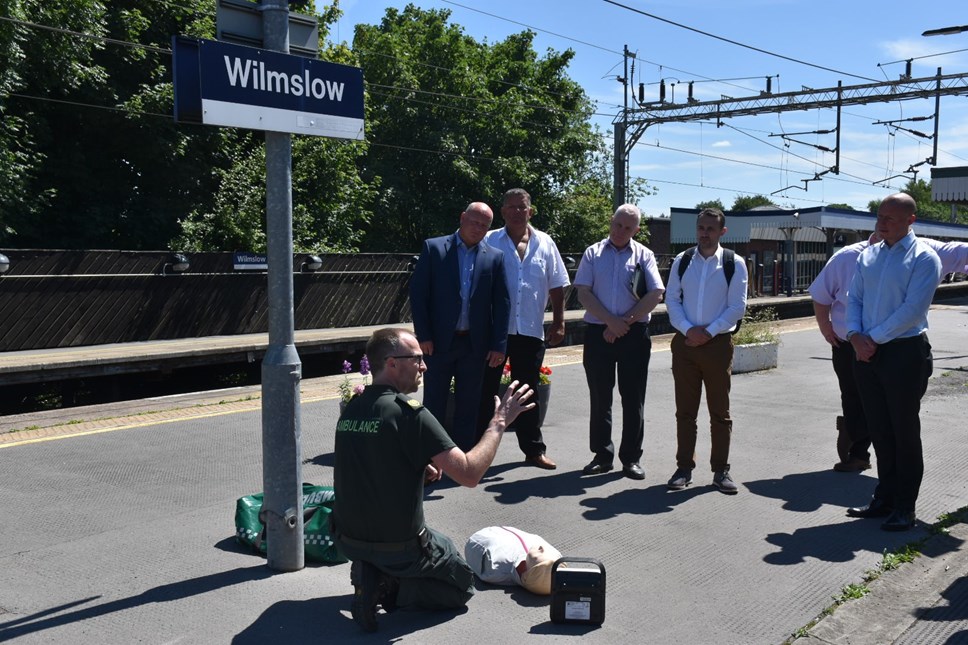 Lifesaving defibrillators installed across Greater Manchester celebrated at Wilmslow station event
Lifesaving defibrillators have been introduced at railway stations across 84 Northern stations in the Greater Manchester area to help save people in cardiac arrest.
A further six will be installed later this year – meaning every station run by the rail operator in this area will have a defibrillator for use by the local community.
Every defibrillator has step by step spoken instructions built in which explain how to use it on someone in an emergency. The defibrillators work to analyse a person's heart rhythms to find out if an electric shock is needed, the machine then delivers a shock if required, with clear instructions for the user to follow
All units will be added to the national register and voluntary 'familiarisation training' will be made available by Northwest Ambulance Service (NWAS) to any station staff along with local communities.
An event was held at Wilmslow station today (Wed 13 July) to celebrate the work done by Northern, Transport for Greater Manchester, ISS and NWAS to complete the scheme.
A demonstration was given to show how to use the defibrillator which is located at the front of the station.
Chris Jackson, regional director at Northern said: "It was great to see how easy it is to use the defibrillator and I would like to thank everyone involved in this project.
"All our defibrillators are in public places, and they are of huge benefit, not only to those travelling with us, but also the communities we serve. Our aim is to make a positive impact for the North, and we will continue to work hard to introduce defibrillators at even more of our stations in the future."
Simon Elliott, head of rail programme at TfGM, said: "I'm really pleased at the amount of lifesaving defibrillator's that we have available at rail stations across Greater Manchester. Today's event highlights the great work that's been done, and I am grateful to all partners for their hard work getting us to this point.
"Every second counts with cardiac arrest, so having defibrillators within easy access across our transport network for passengers, and for the local community, can have a huge impact on people's lives."
Alan Bedford, head of engineering & compliance services for ISS confirmed, "how it had been a privilege to be part of this initiative from the initial planning stages through to actually seeing the units installed and the benefits these units can bring to everyone and the potential to save lives across all our local communities."
David McNally, community engagement, resuscitation & collaboration manager at NWAS NHS Trust said: "Defibrillators play a vital part in the chain of survival and are integral in helping to save someone's life if they suffer an out-of-hospital cardiac arrest.
"Every minute counts when someone's heart stops and if basic life support and an automated external defibrillator (AED) is available in the first 4 minutes then there is an 80 per cent chance of survival. By Northern placing these accessible defibrillators on stations across the Greater Manchester area, it not only serves the users of the station but also the surrounding community."
Contact Information
Northern Trains Press Office