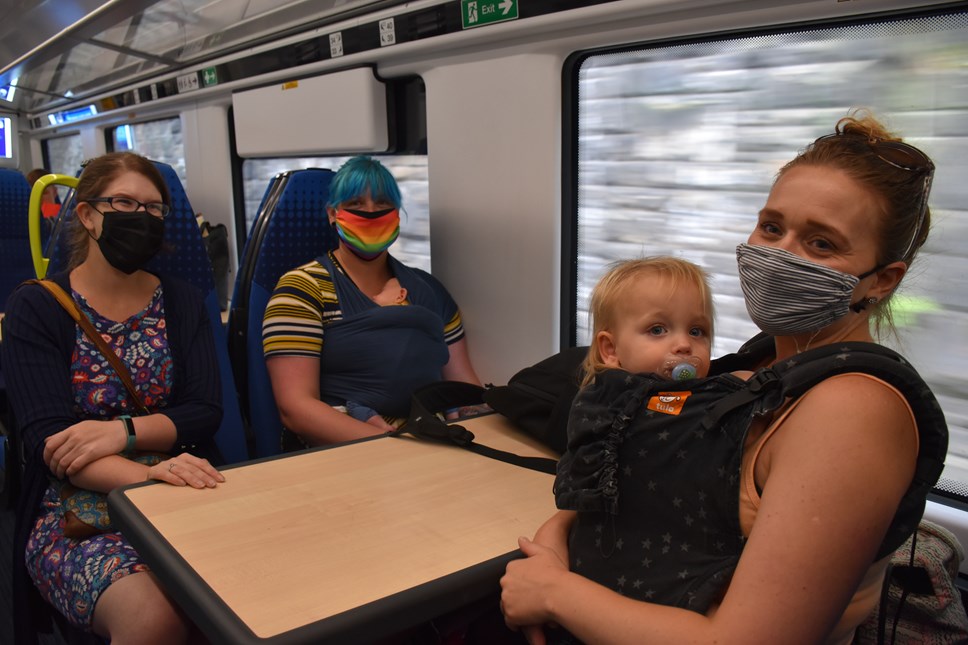 Families enjoy day out on Northern's Sling Express
Mums and babies in Leeds enjoyed a day out on Northern services as part of a scheme to encourage young families to feel comfortable on the railway.
Northern teamed up with Community Rail Lancashire and Child Friendly Leeds to run the Sling Express today (Friday 23rd July) from Kirkstall to Leeds station.
Eight mums and their children were fitted with slings borrowed from the West Yorkshire Sling Library – which offers a collection of hundreds of slings and carriers to try out, allowing parents to borrow a carrier to take home.
Once kitted out, they enjoyed tea and cake at Butlers café and deli in Kirkstall Forge, before heading to the station for their train journey and a visit to Leeds Museum.
Tony Baxter, Regional Director at Northern said: "We are delighted to be able to support this event and hope everyone involved enjoyed the day.
"Our customers at the heart of everything we do, and we want to make our trains – and our wider network – as accessible as possible, and this is just one of the ways we are continuing to deliver a Northern that works for everyone and makes a positive difference to the community."
Mum Molly, who took part in the day out said: "I will be more likely to travel by train, it gave me much more confidence that there was space for a pram, and it was easy to navigate."
Karen Bennett, Development Officer at Community Rail Lancashire, said: "For some of these mums, this was the first trip they've taken out since covid-19 restrictions, and we're delighted to have introduced them to baby wearing whilst gaining rail confidence and making friends with other new parents."
Lucinda Yeadon, Community Liaison Manager at CEG the developer behind Kirkstall Forge, said: "It's great to welcome parents and their babies to Kirkstall Forge, thanks to the partnership we've established with Northern and the wider community. Butlers loves welcoming residents to enjoy the deli, helped by the easy rail access and the attraction of great views and waterside walks as well."
Contact Information
Lauren Clarke
Media Relations Executive
Northern