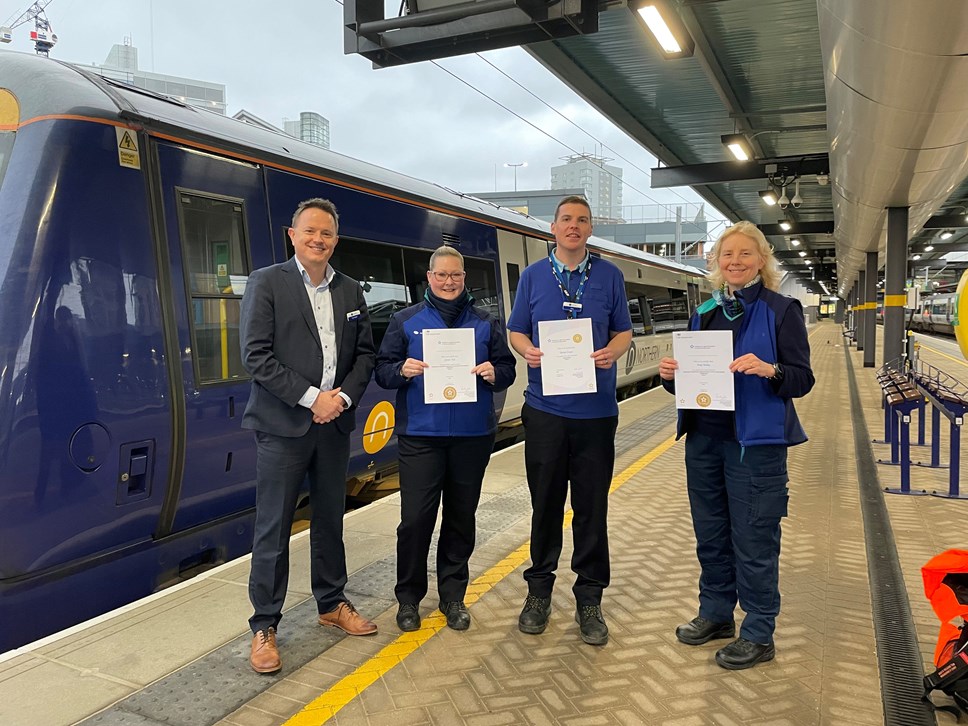 25 more apprentice train drivers and conductors based at Leeds station graduate with Northern as UK celebrates National Apprenticeship Week 2022
Ten apprentice train drivers and 15 apprentice conductors based at Leeds station have completed their apprenticeships with Northern.
They join hundreds of colleagues across the North of England entering the rail industry in roles covering customer service, engineering, operations and planning.
Congratulating three of the latest graduates (Janine Bell, Dan Cooper and Katy Bailey) at Leeds station was Northern's regional director, Tony Baxter.
Tricia Williams, chief operating officer at Northern, said: "Our apprenticeship scheme really is one of the best ways to kick-start your career in the rail industry.
"We offer a wide range of opportunities for people of all ages and experiences – whether they're straight out of full-time education or mid-career and want to try something completely new.
"Northern is a great place to work and we want to represent every one of the different communities we serve – and our apprenticeships play a vital part in helping us realise that goal."
Northern is the largest provider of apprentice opportunities in the rail industry, with almost 600 apprentices employed across the organisation. Apprentice recruitment is on-going throughout the year, with more than 30 vacancies currently up for grabs.
For more information about joining Northern as an apprenticeship, visit: www.northernrailway.co.uk/careers
Apprentices at Northern attend college two days a month on top of their on-the-job training. They also work together on standalone projects aimed at improving one of the stations on Northern's network.
Contact Information
Northern Trains Press Office